My Photography Site
Back in 2017 I had done a course with the Dublin Institute of Design on responsive web design and UX.
I am a keen amateur photographer and had used Wordpress previously to design and host my site. But I always found that unless you were on top of it and updated the widgets regularly, there was a danger that your website could fall over and you may not be aware of this for a few days.
So I decided to use what I had learnt with Dublin Institute of Design, and design and code my own responsive website.
This allowed me to have full control over how I wanted to have my site look and behave and because it was code I did not have to worry about keeping any plugins updated.
As this is a photography site I wanted to let the images do the work rather than have text trying to entice viewers in. When they go to my site they are immediately presented with a range of images which I hope will make them curious or interested enough to move around and go from page to page.
To present them with as many images as possible in the shortest period of time I decided to design it in such a way that as soon as you hovered over some images, you were presented with a completely different image, or in some cases the colour version of a black and white image.
Then as the user continues to hover, they finally are presented with a small slide containing text with the briefest of descriptions of the photographer.
Incidently, one of the most common questions I get asked is where does the name come from - the answer is that when I went to buy the domain name, MarksShots was gone and a friend of mine suggested SkramShots....as its my name backwards.
Cockroach Guitars
A friend of mine is a keen musician and has been playing the guitar for a number of years.
However he has now shown us all another side to his talent and imagination. He has been designing and building from scratch, bespoke electric guitars.
I have watched with fascination as he makes these guitars over a period of months using things like pieces of wood and in one ingenious case, a Midleton Irish Whisky wooden case.
I pointed out to him that these are works of art and I thought that people who have any interest in music whatsoever and maybe some pubs would love to have one of his handmade guitars hanging on their wall.
I asked him had he thought of a brand name for them and he said his nickname when he worked in bar in Munich was 'cockroach' so he wanted to go with "Cockroach Guitars".
I loved this name and decided to design a logo for him and thats what you see here. Designed using Figma.
I have offered to do up his website for him when he gets a few more built...so watch this space !
Continuous Upskilling
As a result of doing the Professional Diploma in UX Design, I was introduced to a number of new tools to assist us with the project work we had to complete for assessment.
I chose to use Figma for most of my projects for the simple reason, that it's Free. Tools such as Axure, and Sketch had 30 day free trial periods, but I didn't want to put myself under additional pressure if I didn't have my project complete and the 30 day trial was up in a couple of days.
However I was still very keen to get some experience working with them so I created a few imaginary High Fidelity projects with them. The project opposite was created using Axure.
As a photographer I have been using Adobe Photoshop and Lightroom for many many years now, so this gave me a definite advantage when trying out these other tools as I found them easy enough to pick up as the UI's are not a million miles apart.
More examples of my practise work with Axure, Figma and Photoshop can be seen in my Behance Profile here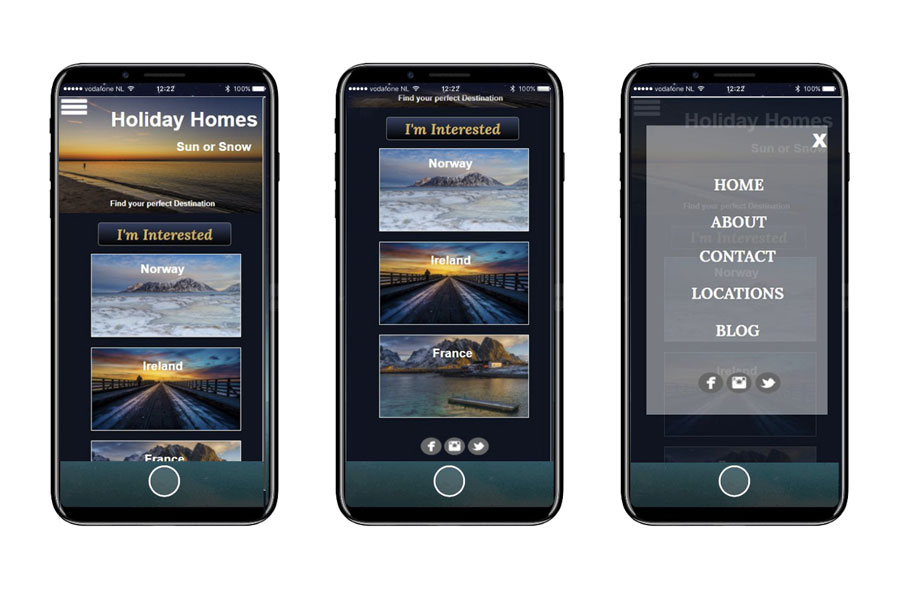 Figma
I had never heard about Figma until I came across it during college, when it was one of a list of tools suggested by college to be used for project work.
I have to say I fell in love with it and not just because it was free to use unlike others which only gave a 30 day trial.
I found it very easy to use from the beginning, and there are lots of YouTube tutorials if you want to get into more complex interactive designs.
I used it for my wireframing and medium fidelity prototyping project work for college, and then I continued to try out new design ideas with it.
The design opposite is best seen working interactively and you can see that by clicking here
Branding with Adobe Illustrator
As part of a project with my course with the Dublin Institute of Design we were introduced to Adobe Illustrator and then left to figure it out for ourselves.
As I have said, being a photographer and working with Adobe Photoshop for many years meant that I found Illustrator easy enough to pick up as the UI is very similar to Photoshop.
We were given a list with approximatley 8 different types of genuine businesses and tasked with designing 2 logos for them from scratch using Illustrator
Opposite you can see the 2 different logos I designed for Vintage Tea Rooms
Cheryl Cox Counselling
A very good friend of mine is a relationship counsellor. I know her from my camera club in Malaide.
From talking to her I came to the realisation that she did not have an online presence.
So as a favour to her I created a basic webpage for her, so that her clients can find her, and contact her and see just how qualified she is along with the services she offers
She returned the favour with a very good bottle of wine.
And Finally...
Everything you have read on every page here has been designed and coded by me. I have used what I have learnt from the Dublin Institute of Design and the UX Design Institute to design and code this entire portfolio.
For now I have it piggybacking on my photography website domain and hosting to save me some money.